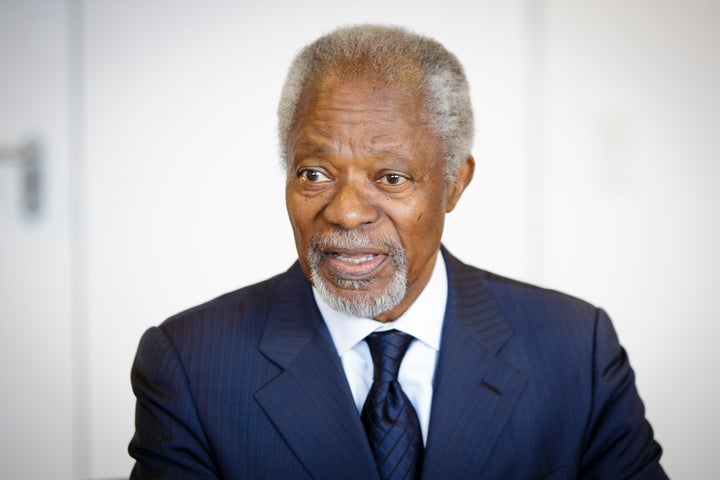 The Ghanian diplomat has been hailed as "a guiding force for good" and a "visionary."
Kofi Annan, the former United Nations Secretary-General, died early Saturday at a hospital in Bern, Switzerland, following a short illness at the age of 80.
The death of the Nobel Peace Prize laureate, who was born in Ghana in 1938, was confirmed by the Kofi Annan Foundation on Twitter:
"His wife Nane and their children Ama, Kojo and Nina were by his side during his last days," the foundation named after him wrote.
Annan became U.N. Secretary-General in 1997. He was in the role until 2006 and won the Nobel Peace Prize in 2001 for "revitalizing" the body and giving "priority to human rights." Annan later served as U.N. special envoy for Syria.
The foundation has hailed Annan as "a global statesman and a deeply committed internationalist who fought throughout his life for a fairer and more peaceful world." It called him "an ardent champion of peace, sustainable development, human rights and the rule of law."
"He will be greatly missed by so many around the world, as well as the staff at the Foundation and his many former colleagues in the United Nations system," it added.
"He Hwill remain in our hearts forever."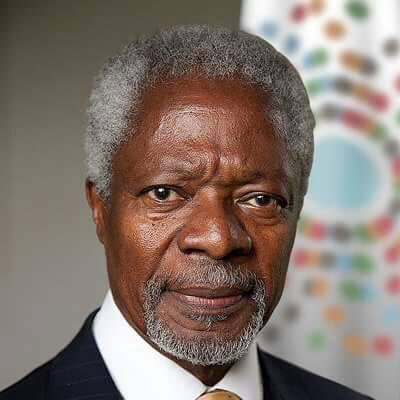 Current U.N. Secretary-General António Guterres described Annan as a "guiding force for good," "a good friend and mentor" and "someone I could always turn to for counsel and wisdom."
"He provided people everywhere with a space for dialogue, a place for problem-solving and a path to a better world," Guterres said via a statement shared online. "In these turbulent and trying times, he never stopped working to give life to the values of the United Nations Charter. His legacy will remain a true inspiration for all of us."
The U.N.'s Migration Agency paid tribute to "visionary" Annan with this post:
"Today we mourn the loss of a great man, a leader, and a visionary: former @UN Secretary General @KofiAnnan. A life well lived. A life worth celebrating."